I'm excited to try out my new toy from
EdenFantasys
called the
OhMiBod Freestyle
. This one is unique because you can plug your mp3 player into it and have the vibrations coincide with the beats of the song. I'm really tempted to test some Slipknot or Korn out since they're deep rifts and hope for deep vibrations.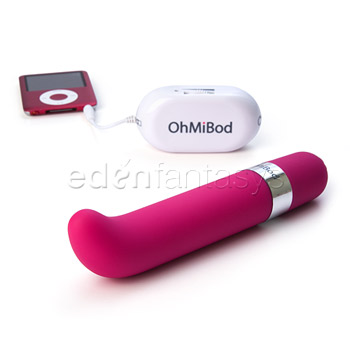 I was watching the video on
EdenFantasys
that a community member uploaded and she was using hers to Michael Jackson's - The Way You Make Me Feel. lol... I don't know about you, but the thought of MJ making me moist, makes me want to vomit.
Now, I just need to charge this bad boy up and get the party started, but alas I've been getting more sex than normal so I haven't really had the urge, yet anyways, but I will soon since it piques my interest.
If you were to use this toy, what song would you want to test it out to? Would be interesting to see other's musical interests. Would you choose a song with slow beats to last longer, or fast pumping ones to get it over with? ;)
I think I kind of want to try some Miami Drum & Bass as well.... oh the possibilities are endless.